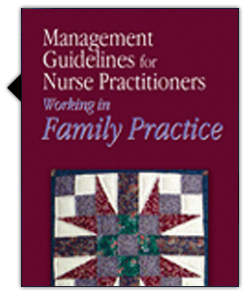 Management Guidelines for Nurse Practitioners Working in Family Practice
Author(s): Alice F. Running, RN, PhD, FNP, ANP & This new text/reference is designed to help nurse practitioner students learn how to effectively manage patients across the life span. Organized by anatomical areas, this text covers 310 disorders and conditions, with rationales and causes provided for abnormal lab and diagnostic test values. "Signal Symptoms" will assist your students in quickly locating potential diagnoses.

KEY FEATURES
A brief overview of relevant physiology and pathophysiology
ICD codes for each disorder
"Signal Symptoms" at the beginning of each disorder help the user target the most appropriate diagnosis
Each monograph includes definition, etiology, occurrence, age, ethnicity, gender, contributing factors, signs and symptoms, diagnostic tests, differential diagnosis, treatment, follow-up, sequelae, prevention/prophylaxis, referral guidelines, education, and references
Diagnostic data include rationales on why the test is ordered and a discussion of possible causes for abnormal lab values
Comprehensive health promotion guidelines for each age group in Unit 1
Alternative and complementary modalities included in management/treatment sections as appropriate
Many monographs followed by a diagnostic decision tree to illustrate diagnostic or treatment reasoning
Listing with common dermatologic conditions
Website addresses for appropriate content areas and national organizations
Organized by anatomical areas in a head-to-toe approach
Each disorder chapter contains an overview of the essential elements to focus on during assessment
Visual symbols such as Clinical Pearls, Age Related Considerations, Risk Factors, Red Flag, and Emergency Situation Signal Symptoms assist reader in quickly locating potential diagnoses
With Skyscape's patented smARTlink™ technology, NpFamily™ can easily cross-index with other clinical and drug prescription products from Skyscape to provide a powerful and integrated source of clinical information that you can carry with you wherever you go!

*Desktop version requires Windows 98 or higher.
Amy E. Berndt, RN, MSN, FNP
Publisher: F. A. Davis
click download link, wait 5 secs and click "SKIP AD>"
button at top right.
For your information, this is not regular e-book, this is medical application of PC that needs Windows

Operating System for installation (98, Me, 2000, XP, Vista, 7).
Contribute to us.
So that we can buy new skyscape's titles to get and share the download links.